Next semester I'll be teaching a University Seminar called Sound Tracks: Pop Music through Media, a course that explores the way that the industry that surrounds the production of pop music has shaped the cultural meaning of music itself, and influenced the development of other media forms (Hollywood film, television, video games, and media technology). The course will first consider the structure of the music industry (Unit 1), then examine cultural phenomena like stardom, genre and ideology through pop music (Unit 2),  next analyze the interaction between hardware developments like the cassette deck and the iPod on the "software" of the album and the "leaked" single (Unit 3), and finally explore the relationship between pop music and screen media (film, television, and the Internet).
Course description below, after the jump.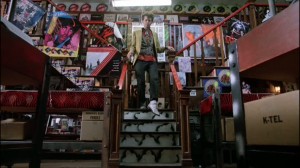 The study of music in colleges and universities has traditionally focused on the formal qualities of songs themselves: melodies, tempos, keys, meter and instrumentation. But popular music in the United States is also part of a broader set of media industries that have their own histories, operations, and influence. This course starts from the supposition that the things that we often think of happening to music (marketing, sales, licensing, adaptation, inclusion in other media, etc) are actually fundamental parts of popular music. Starting from this point, we will attempt to understand the soundtracks that run through our contemporary media culture.
Nearly all the activities in our daily lives are musical ones – our computers and cars play music not just through Pandora but also to help us understand how to operate them. Hollywood film and television use popular music to promote films and shows, but also to help us understand narrative, character, and conflict. And many of the most important "new media" technologies and cultural shifts in the past few years have been built around the production, distribution, and consumption of pop music, changes that have radically altered the radio, recording, and hardware industries. In this course, we will consider all the ways that music shapes, and is shaped by, our media culture. We will attempt to understand how the business of producing, distributing, and selling music shapes the kinds of songs that get made, examine how popular music is intertwined with other major media industries (particularly film and television), consider how cultural formations (stardom, ideology, genre and identity) influence the meaning of music, and discuss how the changing technologies of distributing and listening to music – from AM radio to the Spotify app – have transformed pop music and its cultural functions.